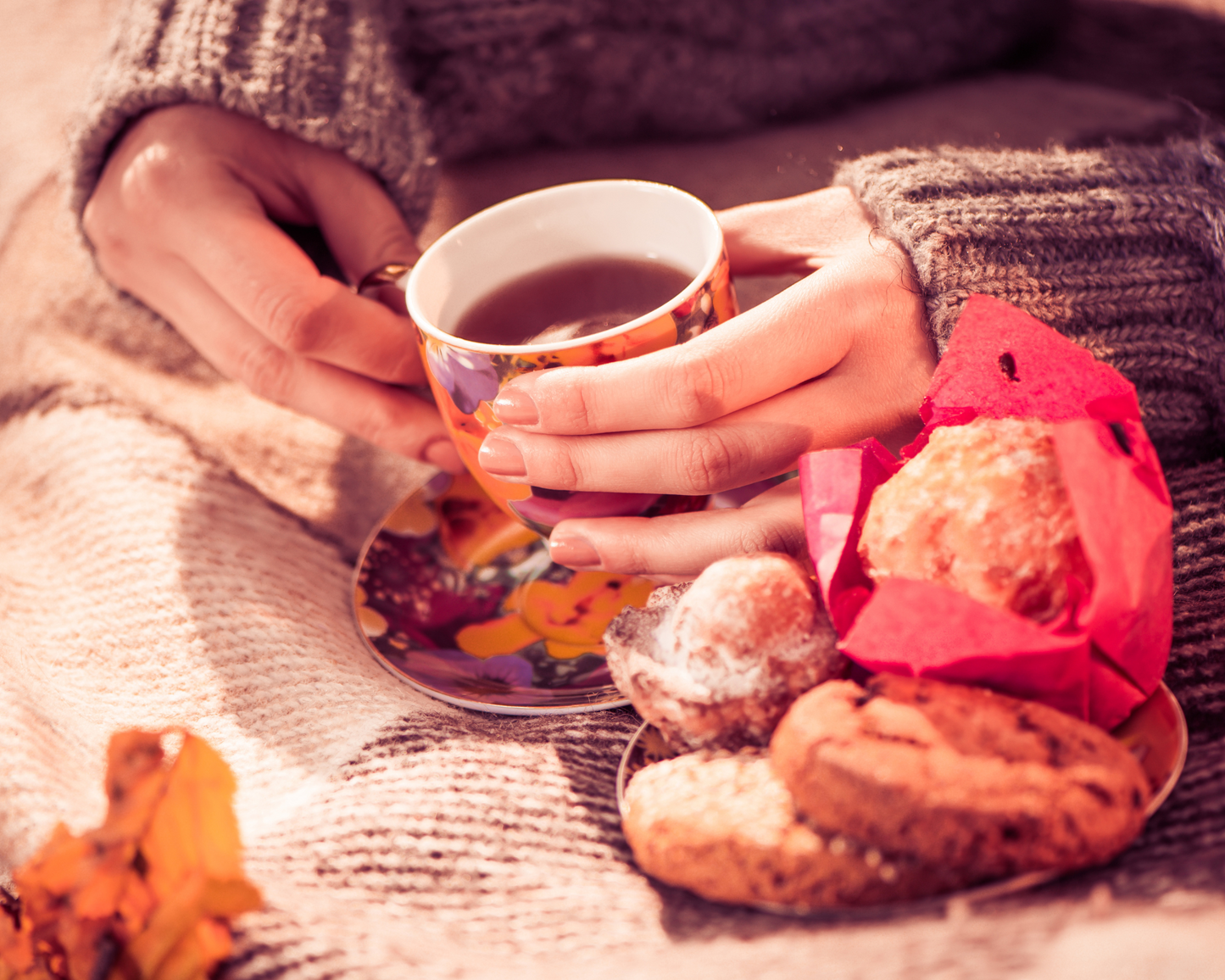 Hygge (pronounced "HOO-guh") is the term the Danish use to illustrate a cozy feeling, moment or mood. The word evokes sensations of relaxation, comfort and conviviality, and is often used to refer to "a form of everyday togetherness." Since we first learned this word a few years ago, it has become one of our favorites, not just for its poetic meaning, but also because it perfectly encapsulates teatime in just two syllables.
If you're a tea lover like us, you probably agree that tea is the epitome of coziness. From the aroma of steeping leaves and the feelings of warmth emanating from your favorite cup, to the pleasant calm that quickly washes over you upon your first sip, tea is the key to getting cozy.
But if you're looking to get extra cozy now that the temperatures are cooling down, we're sharing a few tips on how to inject additional hygge into your teatime so you can further relax and pamper yourself. Read on for five of them. 
Pick a cozy tea
While all teas can contribute to a feeling of hygge, different teas create different sensations in the mouth when you sip them. Some teas, for example, boast a buttery or creamy feeling that is often described as "cozy." (Some of our fall favorites include our Lafitte's Spiced Rum Cake, St. Patrick's Irish Cream and Beignet Rooibos.)
Similarly, savory teas like Grand Isle Genmaicha – a unique blend of green tea and roasted brown rice – are as nourishing to the soul as a bowl of chicken noodle soup. When getting cozy, we're also partial to naturally flavored teas that evoke certain memories. Bayou Bonfire Souchong, for example, immediately brings to mind chilly evenings around campfires, while Mardi Gras Indian Spiced Chai puts us in the holiday spirit.
Try different teas to find one that makes you feel particularly cozy.
Break out your favorite teaware
Take time to brew your tea the proper way by using your favorite tea pot and cup. (Or cups if you're getting cozy with friends.) There's something especially calming and cozy preparing loose leaf tea in a pot and listening to the infusion cascade into your cup when poured. And let's be real; it tastes better, too.
Sip by candlelight
We love the soft, warm glow of the flickering flame of a candle, not to mention the instantaneous coziness it creates. Candles fill a room with a beautiful aroma, but they also make colors appear softer and muted, providing a subtle mysteriousness to any space. Light a few candles during your next teatime, and let the cozy atmosphere envelop you like a warm blanket.
Get comfy
No matter the time of day, slip into your favorite pajamas or yoga pants and fuzzy socks – whatever is most comfortable to you, and settle into the most relaxed seating in your home. Maybe it's a reclining loveseat, or an overstuffed armchair. Or perhaps it's a pile of cushions on the floor. Don't forget the blanket!
Baking with your bestie
Hygge is all about cozy moments and spending time with your favorite people. So why not plan a baking weekend with your bestie? Whip up some tea-inspired goodies: cakes, cookies, breads – whatever your hygge-loving heart desires.
By making teatime even cozier with a few additional hygge-inspired extras, you're only sips away from inner peace and an uplifted mood. Have a cozy fall, y'all.