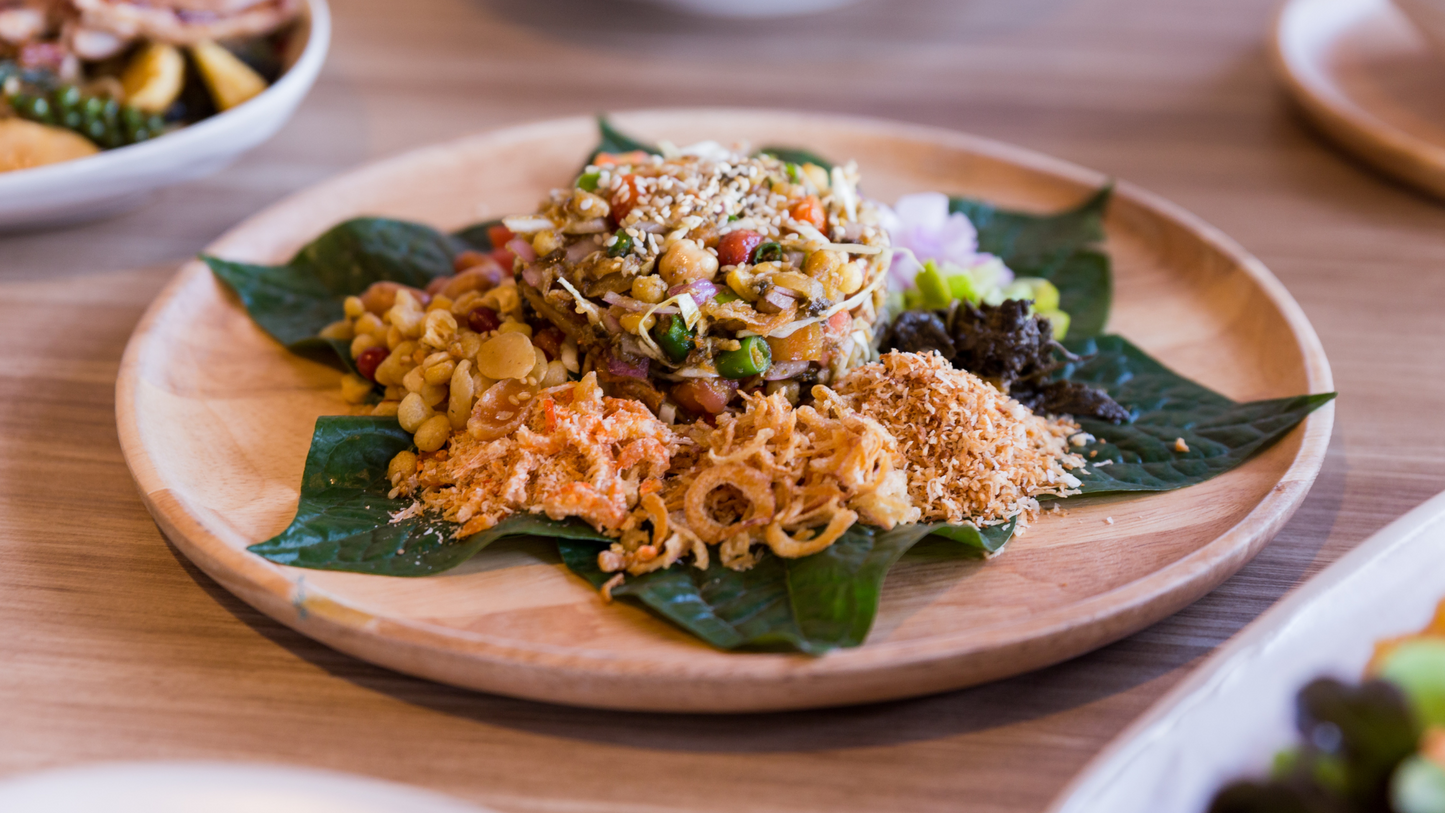 Tea is one of the most consumed beverages in the world, but it's often overlooked when it comes to cooking. Which is a real shame, because tea is incredibly versatile; offering unique flavors and taste sensations, it's the perfect ingredient to elevate your favorite dishes. From banana breads and ice cream to soup stocks and BBQ rubs, read on for a list of surprising ways you can cook with tea.
Getting started: Tips for cooking with tea
It may feel a little intimidating when you first use tea as an ingredient. After all, most of us are used to sipping our favorite brews – not eating them! But with a little creativity and confidence, you can take your home cooking skills (not to mention some of your favorite dishes) to the next level.
When you're preparing to experiment with a recipe, think about the textures and flavors of the dish, and how the flavors of the tea will complement or contrast those. Then go from there.
When you try out a new tea-inspired dish, start by using just a small amount of brewed tea or a pinch of tea leaves – whole or finely ground – depending on the recipe. As you begin to better understand how tea interacts with the dish as an ingredient, you can slowly increase the volume of brewed tea or tea leaves.
One way to ease into cooking with tea is by thinking of it as a spice. Each different kind of tea offers a unique flavor profile and personality that can add a unique essence to otherwise familiar flavors of your go-to dinner dishes and desserts.
Now that you're motivated and ready to go, let's explore some ways to cook with tea.
Use it as a rub
Adding tea leaves to the usual rub options such as salt, brown sugar and garlic elicits a delightful "Wow, what's that flavor?" response when used to quick-cook cuts like flank or skirt steak, or low-and-slow cook meats such as pork shoulder and ribs. If you're looking to achieve that "cooked over the campfire" flavor, consider making your rub with smoky lapsang souchong.
Bake cookies, cake and breads
The tannins of tea are deliciously contrasted against the buttery, sweet notes of baked goods such as shortbread and sugar cookies.
Rather than reaching for the more conventional vanilla or chocolate, opt instead for something that packs a flavor punch, like matcha, a masala chai blend or jasmine green tea. If your tea of choice is not already in powder form, you can use a mortar and pestle, electric coffee or spice grinder to grind your preferred leaf into the proper consistency.
Make noodles with it
Adding green tea powder to homemade pasta dough imbues it with a gorgeous green hue and a vegetal flavor that's perfect for soups or Asian-inspired dishes. (Japanese green tea soba noodles are also available premade at many supermarkets and ethnic food shops.)
Jazz up a stir-fry
The nutty, sesame notes of genmaicha – a blend of bancha green tea leaves and sweet mochi rice – make it a great seasoning for cooking, especially stir-fried dishes. Toss it in your wok to add a delightful roasted flavor to seared greens, root vegetables and meats.
Swap out stock for tea
Ever been in the mood for soup, but your pantry is short on stock? The next time you find yourself in this situation, don't fret – just steep! Consider brewing the following teas to use as a stock alternative.
Sencha green tea works well with vegetables, fish, and poultry, lending its savory, vegetal notes. Consider using it as a base for chicken soup.
Lapsang souchong black tea provides a smoky flavor that pairs well with beef, mushrooms and other hearty ingredients.
Rooibos is a caffeine-free herbal tea that boasts an earthy, honey-like notes, making it great for soups.
Cook your rice and beans in it
Similarly, you can up your flavor game when cooking rice, quinoa or beans by preparing them in tea.
Lapsang souchong imparts a hint of smokiness to beans.
Matcha gives rice a green color and grassy flavor.
Cooking rice in a genmaicha-soy sauce mixture achieves roasty, nutty notes.
You can also pour brewed oolong tea over rice and salmon to create this delicious ochazuke dish.
Infuse dairy
Whole-fat dairy and tea marry well together. Infuse puddings, custards and other dairy-based dishes with the subtle flavors of tea by steeping tea in warmed milk. The tea-infused milk dresses up desserts with a bit of intrigue.
Infusing milk or cream with tea is easy. Simply add loose leaf tea or tea powder to milk or cream, then slowly heat it to just below boiling. Let it cool completely, then strain out the tea leaves.
The options are endless here. Think matcha tiramisu, caramel rooibos-infused chocolate custards and chai spice-flavored pudding pops. Similarly, tea is great with ice cream. (Hellooooo, Earl Grey Affogato!)
But don't stop at desserts. Earthy, grassy sencha tea can add a savory note to béchamel or cream sauce for pasta and rice, while floral blends (rose Ceylon and lavender Early Grey, for example) are perfect for crème brûlées and sweet ice creams.
Pickle it!
Yes, pickled tea is a thing. In fact, pickled tea is so popular in Myanmar that it's considered a national delicacy. Lahpet is traditionally made by steaming fresh tea leaves before drying or fermenting them. The leaves are then heaped together into a pulp and placed in bamboo baskets, which are then put into pits and weighed down until ready. While used in a number of dishes, the pickled tea leaves are most commonly served in a salad alongside a cup of green tea.
Want to experience the flavors of this popular Burmese delicacy? Here's a good version that's a bit quicker than the conventional method.
Add it to poaching liquids
Brewed tea works wonders when it comes to poached dishes. It imparts subtle nuances that infuse into both aromatics and protein while cooking. Try poaching mushrooms in our Grand Duke Alexis Russian Caravan, or your favorite fish in a broth of lemongrass with fresh ginger and onions. Mmmm.
Churn up some tea butter
Move over, herb butter. You've got competition! To make tea butter, let unsalted butter sit at room temperature until very soft. Mix the butter with tea leaves. (If you use powder, it will change the color of the butter completely.) Shape the mixed butter into a log and wrap well in plastic wrap. Store in the fridge until firm, or serve it soft to be slathered on hot bread and biscuits.
Try it as a spice
Tea is the perfect ingredient to spice things up! The addition of Moroccan mint green tea and some pureed cucumber transforms simple Greek yogurt into a fabulous veggie dip, for example.
You might also consider sprinkling tea powder on your favorite snack foods such as popcorn.
Brewing notes to keep in mind when cooking with tea
When brewing tea to use in a recipe, remember to brew it according to its specific parameters, which are usually indicated on the tea label.
Here are some general guidelines:
Black teas should steep in boiling water for four to five minutes.
Green teas require a shorter steep time of two to three minutes and a bit cooler water, around 170°F to 180°F.
Herbal teas aren't "true teas" and can include flowers, herbs and spices. Brew herbal infusions in boiling water for five minutes or more; they won't become bitter with time, but will instead become stronger in flavor.
Planning to try your hand at cooking with tea? We'd love to see the results! Snap a photo and tag us on Instagram at @neworleansteacompany to get your shot shared!
For more tea-inspired dishes and drinks, click here.